In 2018 Museo Nacional de Colombia did an exhibition about importan colombian artists. "Museo Nacional de Colombia, 2018. El programa Piezas en diálogo busca establecer nuevas relaciones temáticas y de interpretación entre el conjunto patrimonial de piezas de historia, arte, etnografía y arqueología de las colecciones del Museo Nacional y del ICANH. Durante el año 2018 las Piezas en diálogo se dedicarán a conmemorar acontecimientos de construcción de identidad política, cultural o artística, significativos para la nación colombiana. JUNIO-JULIO-AGOSTO DE 2018 Colección de arte: Sala Obras en tránsito y Reserva visible de la colección de etnografía, Primer piso: "Obrero". Sala Ideologías, arte e industria [1910 - 1948] , Tercer piso "Maternidad".
/.../ En 1944, Miguel Alfonso Sopó Duque (1918-2014), discípulo de Rodríguez, se presentó en el V Salón Nacional de Artistas con la escultura Maternidad (reg. 6064), pieza que ganó el primer premio y le permitió obtener una beca para viajar a Estados Unidos y continuar su formación profesional entre 1945 y 1950".
http://www.museonacional.gov.co/colecciones/piezas-en-dialogo/2018/Paginas/Junio_2018.aspx"
In 2008 exhibits at the Museo Nacional de Colombia: "Toda talla directa - Obras de Miguel Sopó" with his works"Primitivo minero", "Obrero", "Niña arrodillada","Lavandera", "Maternidad", "Cabeza de Mujer", "Mujer y niño","El Viento" y "Campesina", nine sculptures of his production during the 1940s and 1950s.
En la pagina 37 del siguiente PDF on line:
http://www.museoscolombianos.gov.co/fortalecimiento/comunicaciones/publicaciones/Documents/Manual_de_Curaduria_en_Museo.pdf
This work is in the Museo Nacional de Colombia, at the 3rd floor, in the hall of Art, Industry, Ideology: La_escultura_en_el_Museo_Nacional_de_Colombia_2010.

This photo is on page 19 of the book: "Miguel Sopó Duque escultor: Vida y obra"
Date Posted: 2004-01-01 by Editorial Visuales Bogotá. The book is published online courtesy of: Biblioteca Virtual de la Biblioteca Luis Ángel Arango
http://www.banrepcultural. virtual/. http://www.banrepcultural. /todaslasartes/vida/. htm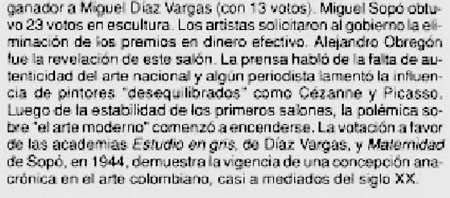 https://es.scribd.com/doc/66073524/50anos-SNA#scribd página 300